1834 -- 1890

---
Sitting Bull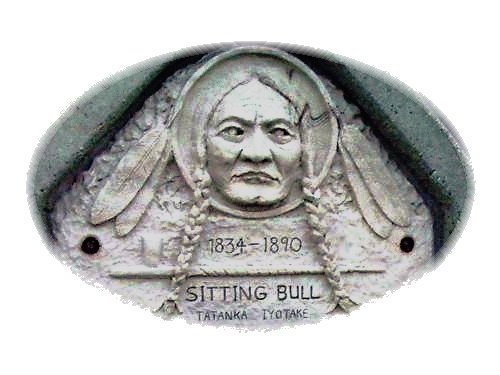 Tatanka Iyotake
Sitting Bull was born on the Grand River a few miles west of Mobridge. His tragic end came at the very place he was born. He was shot when being arrested because of his alleged involvement with the Ghost Dance Craze.

Sitting Bull was originally buried at Fort Yates, ND. On April 8, 1953 surviving relatives with the aid of the Dakota Memorial Association moved his remains to the present location and dedicated the Memorial Burial Site April 11, 1953.

1876 -- Victorious at the Battle of Little Big Horn
1877 -- Sought asylum in Canada
1881 -- Returned to the United States
1885 -- Toured withe Buffalo Bill's Wild West Show
---
"Sitting Bull." The Hi-Line and the Yellowstone Trail: To Glacier Park and Back Again. 1 Sept. 2004. Lacus Veris. 21 Mar. 2023 <http://lacusveris.com/The Hi-Line and the Yellowstone Trail/The Wide Missouri/Marker: Sitting Bull 2004-08-08 18.06.32.shtml>. Last modified 6 Oct. 2015. Served 6739 times between 18 May. 2010 and 21 Mar. 2023. Contact mailto:CRhode@LacusVeris.com?subject=LacusVeris.